"All of our Pierre Freeman treatments, blended with Prebiotics, Probiotics and Postbiotics and super fruits, which offer our consumers softer, smoother cleaner, brighter, and happier skin."
Larry Freeman Day Care Cancer center at USC Norris Cancer Center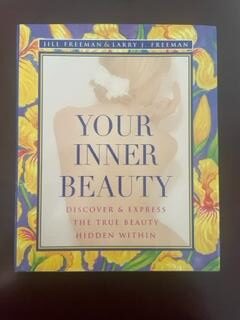 "Your inner Beauty." Book authored by Larry Freeman and his daughter Jill Freeman
Our History
The History of the Freeman Family in the beauty industry dates back nearly 125 years. It now encompasses 5 generations who are or have been in the beauty business. Starting in 1910 with the opening of standard beauty supply in New York City by Great Uncle Murray. S. Jerry Freeman second generation and father of Rick and Larry Freeman entered the industry followed by Mark Freeman, Larry's son, and now Drew Freeman, Mark's son.
In the late 1970's Rick and Larry Freeman founded the Freeman Cosmetic Corporation, one of the first international companies to incorporate natural and organic ingredients in hair and skin products. After selling Freeman Cosmetics to the Dial soap corporation Larry returned to his roots, the Beauty Industry. Larry Freeman, also known as Pierre Freeman, started Pierre Freeman's Probiotic Skin Care.
Larry J. Freeman, a UCLA graduate proudly served in the Air National guard. Larry was trained by Clairol in the art of hair color. Jill, Larry's daughter, and Larry authored the book "Your inner Beauty".
Judy and Larry are dedicated Philanthropists concerning themselves with medical opportunities and have funded the Judy and Larry Freeman Day Care Cancer center at USC Norris Cancer Center and 2 Chairs in cancer research at Norris Cancer Center. Larry is a trustee of The National Jewish Respiratory Hospital in Denver and also a supporter of the Eisenhower hospital In Palm Desert California, and a member of the board of Governors at Cedars Sinai Hospital in Los Angeles.
Subscribe To Our Emails and Get a 10% Discount Code.
Be the first to know about new collections and exclusive offers.